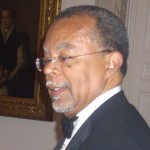 Henry L. Gates, Alphonse Fletcher University Professor, Director of the Center for African and African-American Research, Harvard University, USA; Member of the Honorary Presidential Committee, City for the Cultures of Peace.
For further information, please consult:
http://en.wikipedia.org/wiki/Henry_Louis_Gates, http://www.fas.harvard.edu/~amciv/faculty/gates.shtml and http://www.kpbs.org/news/2010/jan/29/faces-of-america-with-henry-louis-gates-jr/
EVENTS WITH HENRY L. GATES AT THE CITY FOR THE CULTURES OF PEACE
Keynote address at the European Forum on the Cultures of Peace: Personal Engagement in History and Society, Senatssaal of the Humboldt-Universität zu Berlin and former Berliner Reichtagspräsidentenpalais, premises of the German Parliamentary Society (DPG), Germany, 13-14 June 2007.
Laureate of the City for the Cultures of Peace, 2007.
Photo © Remi Raji, Berlin 2007